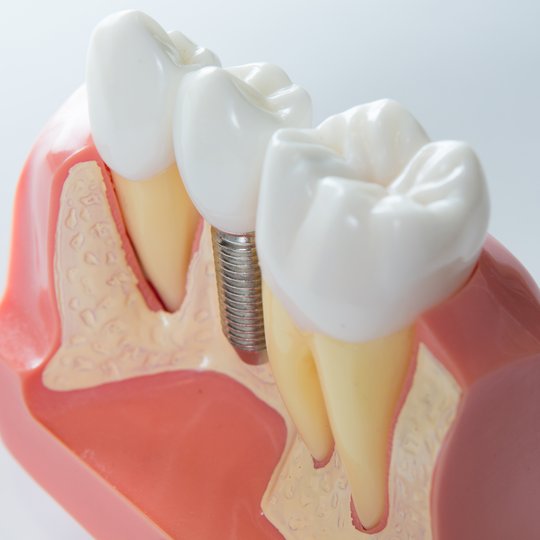 New, fixed teeth within an hour
Dental implants are artificial tooth roots, similar in shape to screws, that are firmly placed in the jaw. They replace the natural tooth root after tooth loss. Dental prostheses from crowns to full dentures can then be fixed on these implants.
Dental implants are increasingly becoming the preferred method of tooth replacement in the event of tooth loss. Until now, treatment with implants often took several months. In some cases, temporary dentures could be inserted immediately after the implants were placed, but they often had to be adapted and changed several times.
With a completely new method - new fixed teeth in one hour - it is now possible to insert dental implants so accurately that the dental prosthesis can be made in our practice laboratory in advance.
The patient will receive the final prosthesis directly after the procedure, if the bone supply is sufficient. This means shorter treatment time for the patient, no need to adjust the attachment several times and a functional and aesthetic denture in a shorter time.
Depending on the existing dentition situation and the desired comfort, different treatment options can be considered. Whether replacement of a single tooth (especially in the anterior region), a fixed bridge construction for partial tooth loss or a fixed prosthesis for complete tooth loss - dental implants are a comfortable alternative to conventional dentures in many cases.