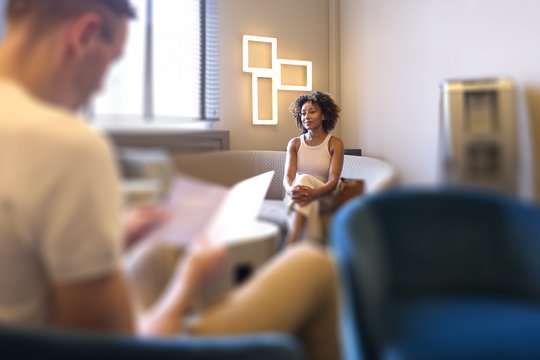 DentalFirst - Your English-Speaking Dentist in Berlin
Are you an English-speaking individual living in Berlin and searching for a reliable dentist who understands your language? Look no further than DentalFirst, your go-to dental clinic in Berlin!
Our english speaking practice offers general dentistry, cosmetic dentistry, emergency dentistry and restorative dentistry. We are spezialized in dental implants, treatment of periodontitis and craniomandibular dysfunction (CMD). We have an Inhouse Dental Laboratory were durable dentures are manufactured. Our staff speaks English, German an Russian. For other languages we work with native translators so you can communicate even more complicated details with us.
Why Choose DentalFirst?
At DentalFirst, we understand how challenging it can be to find a dentist who speaks your language. That's why we've made it our mission to cater to individuals who prefer to communicate in English.
Our team of dental professionals consists of experienced dentists and dental hygienists who speak fluent English. We are committed to providing you with high-quality dental care while ensuring that you feel comfortable and at ease during your visit.
Our Services
DentalFirst offers a wide range of dental services, including preventive care, restorative dentistry, cosmetic dentistry, and emergency dental care.
Preventive Care
Our preventive care services include routine dental checkups, teeth cleaning, and fluoride treatment. We believe that prevention is the best approach to maintaining good oral health, and we'll work with you to develop a personalized dental care plan that meets your needs.
Restorative Dentistry
If you're experiencing dental problems such as cavities, gum disease, or tooth decay, we offer a variety of restorative dentistry services to help restore your smile. Our services include fillings, crowns, bridges, and dental implants.
Cosmetic Dentistry
Are you unhappy with the appearance of your teeth? At DentalFirst, we offer cosmetic dentistry services such as teeth whitening, veneers, and orthodontics to help you achieve a smile you can be proud of.
Emergency Dental Care
Dental emergencies can happen at any time, and we're here to help when you need us the most. Whether you're experiencing severe tooth pain, a knocked-out tooth, or a broken tooth, we'll do our best to provide you with prompt and effective emergency dental care.
Our Technology
At DentalFirst, we use state-of-the-art technology to ensure that our patients receive the best possible care. Our dental clinic is equipped with digital X-ray machines, intraoral cameras, and other advanced tools that allow us to diagnose and treat dental problems more accurately and efficiently.
Our Location
Conveniently located in Berlin Charlottenburg in the borough of Westend, DentalFirst is easily accessible by car or public transportation. Our office is equipped with comfortable chairs, air conditioning and air cleaning, and other amenities to help you feel relaxed and comfortable during your visit.
Our Payment Options
We understand that dental care can be expensive, which is why we offer a variety of payment options to make dental treatment more affordable. We accept most insurance plans, and we also offer financing options to help you spread the cost of treatment over time.
What should I expect during my first visit to DentalFirst? During your first visit, we'll perform a comprehensive dental exam to evaluate your oral health. We'll also take X-rays and discuss any concerns or questions you may have.

Is DentalFirst only for English-speaking patients? No, DentalFirst welcomes patients of all backgrounds and languages. However, we do have a team of English-speaking dentists and dental hygienists who can communicate effectively with patients who prefer to speak English.

What if I have a dental emergency after hours? We offer emergency dental care during regular office hours. If you experience a dental emergency outside of our regular hours, we recommend that you visit your local hospital emergency room.

Do you offer financing options for dental treatment? Yes, we offer a variety of financing options to help make dental treatment more affordable. We can discuss these options with you during your visit.

How often should I visit the dentist? We recommend that you visit the dentist for a routine dental exam and cleaning every six months. However, if you have a history of dental problems or are undergoing treatment, we may recommend more frequent visits.