DentalFirst | English speaking dentists
Our english speaking practice offers general dentistry, cosmetic dentistry, emergency dentistry and restorative dentistry. We are spezialized in dental implants, treatment of periodontitis and craniomandibular dysfunction (CMD). We have an Inhouse Dental Laboratory were durable dentures are manufactured. Our staff speaks English, German an Russian. For other languages we work with native translators so you can communicate even more complicated details with us.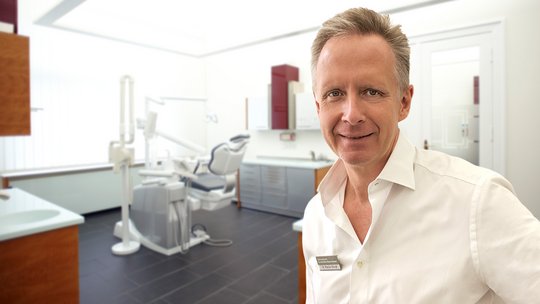 Dr Marcus Nowak – English speaking Dentist
Dr Marcus Nowak is an english speaking dentist with a specialisation in oral surgery / dental implants in Berlin. He holds a Master of Science (MSc) in Implantology and a MSc in Oral Surgery and has many patents in his field of dentistry in his name. Leading the dental practice since 1989 he has helped many patients over the years and has placed many thousands of tooth implants. As dental implantology has evolved over the years in terms of procedures and materials, Dr. Nowak stayed on top of the developement by constantly adapting to the latest scientific insights and has helped developing new technologies as well. The Inhouse dental laboratory is one of the most modern dental laboratories in Berlin and implements the latest technologies of 3D printing and computer-aided planning for implantation, so-called immediate implants, zirconium tooth replacement (ceramic implants), oral surgery and Lumineers and veneers in the area of dental anaesthetics..
Thanks to his wide array of practice emphases, Dr Nowak in Berlin is able to advise his patients optimally regarding any dental problem and to facilitate outstanding therapeutic results for them, from serious situations such as the loss of a tooth, to damaging grinding of teeth, right up to aesthetic problems. Here, the implantology and oral surgery specialist is supported by his highly specialised and experienced team.
The particular conditions which Dr Nowak treats include grinding the teeth (bruxism), periodontitis (periodontal disease), tooth loss, atrophy of the jaw, functional dental disorders and aesthetic remodelling of the teeth.
Even patients who suffer from fear of the dentist are in the best of hands at Dr Nowak's surgery in Berlin. Approximately 70 percent of German patients have a negative feeling when a visit to the dentist is due. Of this 70 per cent, a further 20 per cent suffer from intense fear of the dentist and, ultimately, around 5 to 10 per cent of anxious patients avoid visiting the dentist completely. Since these figures are similar in other countries, the fear of dental treatment is a global problem, on which the implant / oral surgery specialist, Dr Nowak, is focused, because a visit to the dentist is frequently inevitable, particularly if it has been delayed for a long period and is not just for dental aesthetics.

In order to be able to carry out treatment in a focused manner in spite of this, Dr Nowak in Berlin uses two starting points, so that his anxious patients are able to handle any potential pain. Medications which relieve anxiety can also be used, or non-medication treatments such as specific relaxation techniques or hypnosis. Since the patient is anxious that he must suffer pain or, in the worst case, must tolerate the loss of a tooth, it is essential, particularly for dental implantations, to come to grips with this anxiety because the oral surgery represents a complex and massive procedure on the jaw, which also necessitates various visits to the dentist.

For patients who are very anxious or who are very sensitive to pain, the implant / oral surgery specialist, Dr Nowak in Berlin, is able to treat patients under a general anaesthetic, which, particularly for a dental implant, can be a relief for the patient.

If dental replacement following the loss of a tooth is unavoidable for the patient, Dr Nowak in Berlin is also able to select either a conventional implant or a so-called immediate implant, which can be inserted in an hour. Of course, the decision as to which implant is inserted by Dr Nowak is dependent on the condition of the jaw and of the diseased / lost tooth. Here, the implant / oral surgery specialist in Berlin is also able to insert anti-allergy implants (made from zirconium-ceramic), in order to prevent an allergic reaction. A zirconium dental replacement can also be used for other patients.

Here, Dr Nowak has a variety of treatment options available for dental implantation. These depend on the number and the location of the missing teeth, the bone present in the jaw and the patient's "desire for comfort". Using an implant, the specialist in implantology / dentistry can insert a single tooth, a fixed bridge or an implant-supported prosthesis in order to maintain or to restore the function of the dentition.